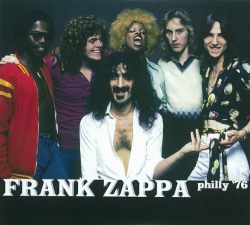 Frank Zappa: Philly '76
Vaulternative
2 CDs, recorded 1976
Buy at Amazon.com

The best of the Vaulternative albums
This posthumous release chronicles a concert by Zappa's Fall 1976 touring band, which featured Lady Bianca (Odin) on vocals and keyboard, as well as Ray White (guitar), Eddie Jobson (keyboards/violin), Patrick O'Hearn (bass), Terry Bozzio (drums) and, of course, Zappa himself. It's the first legit album that focuses on this lineup, which was previously represented only on selections from You Can't Do That On Stage Anymore Vol. 6. Obviously the main hook is the presence of Lady Bianca, one of only two female lead singers to perform with Zappa for an extended time (the other was Norma Bell, who toured with Zappa the previous Fall, as documented on Joe's Menage). The Zappa Family Trust is clearly aware of her significance, foregrounding her image in the album photos, and devoting the choice spot in the CD booklet to her reminiscences of this part of her career. In the recording, she shows no squeamishness delivering Zappa's sexually-charged lyrics, but eventually she left the band, weary of the infantile taunts she often endured from the frat boys and young working class men that, by the mid-1970s, made up the plurality of Zappa's live audiences. This is a real shame, as the perspective offered by a prominent female singing voice was pretty much lost forever in Zappa's work after her departure.
It's hard to overstate just how significant her presence is in mitigating the most troublesome effects of Zappa's lyrics. Simply having a woman singing the lead on a track like Dirty Love dramatically softens its impression compared to Zappa's own snide and rather sinister-sounding delivery on other albums (like Over-Nite Sensation). About the only thing to be regretted about Bianca's blues-oriented interpretation of this song is a proclivity to chop off the last syllable of a word. After Bianca's lead comes a fuzz-heavy guitar solo, then the reprise of the tune where Bianca again takes the lead while the men echo her in a "poodle bites, poodle chews it" refrain that refers back to the preceding Poodle Lecture track.
The Torture Never Stops is given its "Gothic" treatment familiar from the Zoot Allures album. Bianca appears to be adding live screams and moans before and during Zappa's extended solo, reinforcing the interpretation that the song is about S&M. Or maybe it's a parody of Donna Summers' moans in Love To Love You Baby, as Kelly Fisher Lowe suggests. What Kind of Girl Do You Think We Are? is presented as a genuine Lady Bianca solo, and not just a chorus of male singers characterizing a female voice. Even on tracks where Bianca doesn't solo, like Tryin' To Grow a Chin, her presence in the backing/ensemble voice texture adds a fresh dimension to the overall sound, one that's lacking on practically every other Zappa live album.
Bianca sings the lead again in Advance Romance, and the proceedings get interrupted for a bit when O'Hearn loses power to his amplifier. Once that's sorted out he proceeds with a fretless bass solo, again something of a rarity in the Zappa catalog.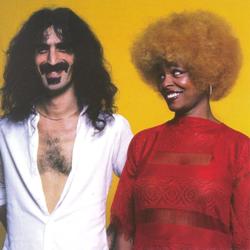 Zappa and Lady Bianca
Black Napkins, Zappa's ubiquitous two-chord instrumental vehicle, is the gem of the album. Zappa fans have heard this tune many times (this is at least the eighth version of it in the official Zappa discography), but this performance is special thanks to Bianca's wordless voice solo, distinguished by her rapid shifts from chest to head voice, and even a few multiphonics. It's the only Zappa track I can think of with this kind of prominent jazz-style solo from a female singer. Eddie Jobson follows with a lyrical electric violin solo (with a generous dose of echo added in), then come the guitar improvs, including a contribution from Ray White (according to blogger David Kaplowitz). The whole track runs 19 minutes, the longest on the album.

The album's overall sound quality is pretty good, and I'd guess that the Zappa Family Trust had a mixer-fed multi-track master available. There's a decent amount of stereo separation, and a minimum of audience noise bleeding through.
Most of the posthumous Zappa releases (those after Civilization Phaze 3) appeal mainly to devoted Zappa fans and collectors. This set is an exception, probably the best so far in the Vaulternative line (which highlights live concerts). Although it lacks the more rhythmically complicated tour pieces from the period, such as The Black Page (featured on the Bianca-less Zappa in New York album, recorded two months later), it can otherwise stand alongside Zappa's finest live albums from the late 1970s. And the Bianca factor makes it worth having even for casual FZ fans. Give it a listen, and wonder how the next decade of Zappa might have sounded with Lady Bianca in place of, say, Ike Willis.
- Michael Schell
First published November 2010



Original Material and HTML Coding Copyright © 2010–16 by Michael Schell. All Rights Reserved.