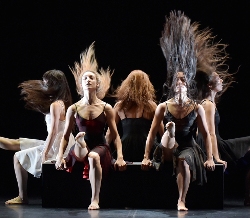 Angelin Preljocaj: La Fresque (2016)
Music by Nicolas Godin
Performed April 5, 2019 by
Ballet Preljocaj
Meany Center for the Performing Arts

La Fresque (The Mural) is an 80-minute intermissionless work in the formidable line of reimagined classic narratives from Angelin Preljocaj—quite possibly France's most important living choreographer, and definitely one of its most provocative (viz. his disturbing, dystopian Les Noces, or his Rite of Spring which concludes with a nude solo for its female lead). This latest evening-length work from Preljocaj (whose name is pronounced as the French prel-zho-kazh, though in his parent's Albania it would be closer to prel-YOT-sigh) is receiving its first performance in the Pacific Northwest this week as part of Ballet Preljocaj's 2019 US tour.
The story of La Fresque is adapted from a Chinese folk tale from the 1700s. Two men visit a monastery where one of them is enraptured by a mural depicting an attractive young girl whose long unfettered hair indicates her availability. Staring at the painting, the man feels himself drawn into its enchanted world where he marries the girl, spends a few happy years, then gets chased out by warriors. Emerging from the wall, he is astonished to be told by his companion that he has been missing for only a few minutes. But in glancing back at the mural, both men notice that the maiden's hair is now in a married chignon. The story has its parallels with other East Asian tropes, such as the Japanese The Dream of Akinosuke, and the "virtual lifetime passing in a few real-time minutes with apparent verification afterwards" trope has even made it into contemporary science fiction (e.g., The Inner Light episode from Star Trek: The Next Generation).
Despite his troupe's name, Preljocaj's choreography is what we'd call modern dance in English (in French the word ballet does not automatically denote the classical practice descended from the court of Louis XIV). Nor does his movement have any hint of traditional Asian dance, though it does retain the original story's focus on hair. The five female dancers can often been seen flinging their long locks with thrusts of the head and neck. And in the striking prenuptial scene, the bride's hair is ceremonially wrapped into a topknot by the other four maidens who grasp tresses while turning circles around her.
The costuming is generically Western but retains the Chinese associations of the color red with marriage. Another notable aspect of the design is Preljocaj's characteristicly stark and largely black framing, often with small regions of the stage isolated in bright light. Props and scenery are sparing. At one point the ten dancers make judicious use of circus-style aerial straps. And at several points, wafting, gray, mist-like images similar to Lissajous patterns are projected on scrims in front of or behind the stage, reminiscent of the clouds in Chinese scroll paintings:

The music comes from Nicolas Godin, best known as the guitar-wielding half of the French electronica duo Air. His untexted instrumental score—which was piped in rather than performed live—is a collection of EDM and postminimalist pieces, both up- and down-tempo. For one ensemble number Godin substitutes a Bachian invention that harkens back to Wendy Carlos. And for the penultimate "battle" scene the music shifts to tom-toms banging out an aggressive swing beat reminiscent of Gene Krupa's drumming on Sing Sing Sing. This is accompanied by the scraping strokes of the jingbo cymbals heard in Beijing opera (or at least something that sounds very similar to them)—the only moment where I could identify a specifically Chinese element in the music.
The brief final scene reflects the folktale's ambiguous ending as the dreamer and his traveling companion process the "miracle" they have witnessed. In the Chinese original, an attending priest says "Visions have their origin in those who see them: what explanation can I give?", an observation as unsatisfying to the two travelers as it is to modern audiences. We're all left to descend the steps of our temple or theater in contemplation of the simultaneous sense of loss and wonder conveyed by what we've just seen.
La Fresque returns to Meany Hall on Saturday, April 7 before heading on to UC Davis, UC Santa Barbara and Cal State Northridge. Like anything by Preljocaj, it's well worth your time.
- April 2019
---
Update: Naxos has released a video of La Fresque in performance, captured in June 2017 in Marseille. You can preview it here:
---



Original Material and HTML Coding Copyright © 2019–21 by Michael Schell. All Rights Reserved.