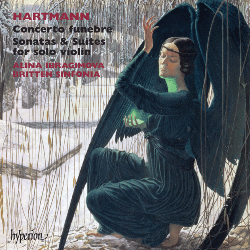 Karl Amadeus Hartmann: Concerto funèbre, Suites and Sonatas for solo violin
Alina Ibragimova
Hyperion, recorded 2006
Buy at Amazon.com

Bach, Paganini and…Hartmann?
The violin is the king of the orchestra, and probably the instrument whose image most vividly connotes "classical music" in the popular mind. With its superlative range of pitch and timbre, it plays a role in innumerable musical masterpieces. But there are surprisingly few important compositions for a single unaccompanied violin. By general agreement the Bach sonatas and partitas stand alone at the pinnacle of this repertory, leaving other Baroque-period offerings from the likes of Telemann, Biber, Locatelli and Tartini in the dust. Haydn and Mozart had no interest in this medium, and Paganini's caprices are an oasis in the otherwise barren 19th century. Among 20th century offerings, the Bartók sonata is probably the most prestigious, with honorable mention to Berio's Sequenza VIII, Sciarrino's caprices, a handful of pieces by Carter, and perhaps the occasional offbeat work like Glass's Strung Out or Larry Polansky's Variations on Little Maggie.
Alina Ibragimova makes a strong case for including Hartmann's suites and sonatas in this elite company. These early works are a revelation for most of us. Dating from 1927, when Hartmann was only 21–22 years old, they sat unknown and unperformed for decades, finally receiving their premiers in the 1980s. They're clearly modeled on the Bach sonatas and partitas in rather the same way that Britten's cello suites are modeled on those of Bach. Although Hartmann's harmonic language is modernist and quite chromatic, he follows Bach's model both in the use of multi-movement structures and in the favoring of fugal and dance-like forms. Ibragimova emphasizes the diversity of character among Hartmann's short movements. Suite No. 1, for example, starts with a canonic prelude, then proceeds into a full-fledged chromatic fugue (the first time since Bach that anyone really pulled off a solo violin fugue). The third movement is a rondo, not a form much associated with Bach, but nevertheless a basis for Hartmann to explore wide skips and the use of register as an important organizational principle. The forth movement contrasts vibrato and non-vibrato sections (I don't have a score and can't tell you if this was specified by Hartmann or is just a part of Ibragimova's interpretation). The fifth and last movement is modeled on Bach's famous Chaconne, and increases its attack rhythm as it proceeds until it fills the ear with crazy runs.
A couple movements from the other solo violin works might also qualify as crazy. The first movement of Sonata No. 1 is labeled toccata and its outrageous double stops and runs conjure up images of the Baroque keyboard toccatas of Frescobaldi and his progeny. The third movement from this same Sonata is a violent scherzo in 7/4 marked insanely fast, ugly playing and featuring multiple stops and repeated notes. This idea goes to an extreme in the variations on a rhythmic idea movement from Sonata No. 2, a fortissimo eighth-note perpetuum mobile. After spending several weeks assimilating these works, I can think of no more worthy compositions for solo violin between Paganini and Bartók.
By comparison, the Concerto Funèbre is a bit of a letdown, a lackluster 20th century violin concerto (at least gauged against the competition from the likes of Berg and others) that has already been recorded several times. But no matter...buy this album for the Sonatas and Suites, one of the most important corpuses of music for unaccompanied violin from the 20th century (or perhaps any century).
Ibragimova has been a champion of neglected modern works for violin, having recorded Symanowski's complete violin/piano works among other rarities. And Calum MacDonald's liner notes for this unfamiliar music are helpfully detailed. All combine to make this an easy recommendation, though you can also check out Ingolf Turban's premier recordings of the Sonatas and Suites on YouTube and Amazon.com.
- Michael Schell
First published December 2015



Original Material and HTML Coding Copyright © 2015–16 by Michael Schell. All Rights Reserved.