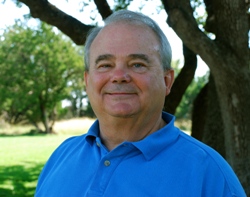 George Schell in Lago Vista, TX, 2007
(photo Sara Robertson, KLRU)


George Aaron Schell, retired speech professor and Deputy Los Angeles City Attorney, died October 11, 2007 in Lago Vista, Texas. He was 68.

George Schell was born May 11, 1939 in Waco, Texas to George Alvin Schell and Jessie Bearden Schell. He grew up in Waco, attended Waco High School, and studied at Baylor University, where he was a champion debater. At the 1960 National Debate Tournament, George won Top Speaker honors, edging out Harvard's Lawrence Tribe.

George earned his BA in 1961 and his MA in 1963, both from Baylor. He then went to Loyola University (now Loyola Marymount University) in Los Angeles, serving as Professor of Speech and then Chairman of the Department of Speech Communications and Debate. A former student recalls that "he was the greatest teacher and debate coach I was ever associated with going through school. George took us from inexperienced debate novices, and turned us into the best debate team on the West Coast".

In 1977 George earned a law degree from Loyola Law School and was appointed Deputy Los Angeles City Attorney, in which capacity he served, with the exception of one year practicing law in Quincy, California, until his retirement in 2004. During his many years as Deputy City Attorney, he was one of Los Angeles's most distinguished prosecutors, noted for his exceptionally high conviction rate, his mentoring of new prosecutors, and for being the first prosecutor in Los Angeles to obtain a domestic violence conviction without the cooperation of the victimized spouse. He was remembered by one senior colleague as "the best prosecutor I've ever seen".

George married Anne McCall in 1960. They had a son, Michael, in 1961, and divorced in 1974, but remained friends thereafter. His younger brother, Richard Randall Schell, who was born in 1947 and was a longtime Austin resident, predeceased him.

After retiring, George returned to Texas, living in and around Austin. He enjoyed feeding the deer in his backyard, listening to music, bicycling, volunteering, and visiting with friends and relishing visits with his young grandchildren. George leaves behind his former wife Anne Schell, his son Michael Schell and daughter-in-law Lauren Goldman Marshall, two grandchildren Hannah and Abigail, and numerous close friends in California, Texas and elsewhere.

Although we're sad to lose George as soon and as suddenly as we did, we're glad that he had a quick and painless exit, and that his last year with us was also one of his happiest. If you'd like to make a charitable contribution in Dad's honor, his family and friends suggest Habitat for Humanity, Meals on Wheels, KUT Public Radio or KLRU Public Television, all of which Dad volunteered for.



Original Material and HTML Coding Copyright © 2007 by Michael Schell. All Rights Reserved.